[Application scope and technical characteristics]
As one of the most powerful directional drilling rigs in underground coal mines, ZDY15000LD drilling rig has significant advantage including more than 2000 meter deep horizontal borehole drilling capacity, outstanding borehole accident handle ability and strong drilling technique adaptability.
ZDY15000LD full hydraulic crawler rig for directional drilling is specifically designed to conduct ultra-long distance highly precise and directional drilling boreholes in explosive underground environments. The rig is suitable for directional drilling operation with down hole motor, rotary drilling, directional-rotary combined drilling and other drilling operations. The borehole drilling application includes gas drainage, water detection/drainage, exploration of the geological structure, detection of seam thickness, water injection in the coal seam and grout injection, etc.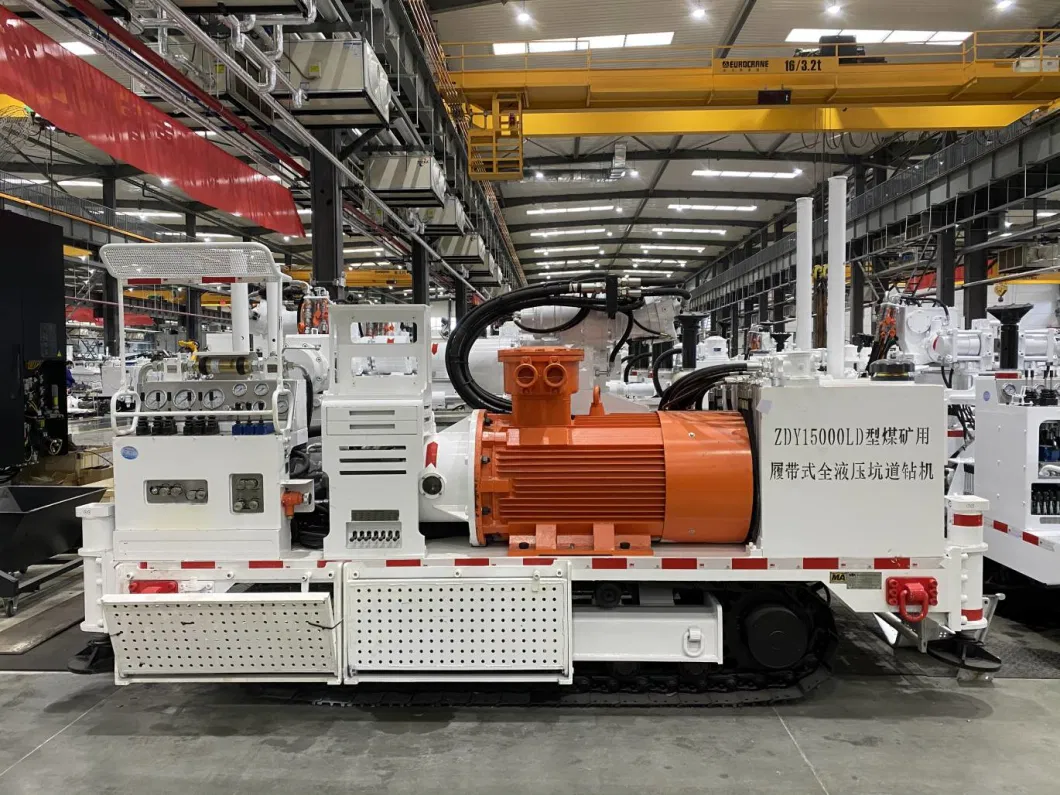 [
Technical specification]
Type
ZDY15000LD

Rated torque/N • m

15000

~

3500

Rated speed/(r/min)

40~135

Brake torque/N • m

3000

Borehole depth/m

2000

Rod diameter/mm

89/102/127

Dip of the main axis/

°

-10~20

Horizontal drill height/m

1.3

Max feed/pull force/kN

300/300

Feed/pull stroke/mm

1200

Power/kW

132

Max travelling speed/(km/h)

2.2

Max gradeability/

°

15

Weight/kg

9100

Dimension(L

×

W

×

H)/m

4.20

×

1.60

×

1.90
[special
features]
As one of the most powerful drill machine for underground coal mine directional drilling, ZDY15000LD has the following advantages and features,
1. The drilling machine has strong drilling capacity to conduct ultra-long distance directional drilling (more than 2000 meter deep) in the coal seam. The maximum drilling depth of the ZDY15000LD drilling machine has reached 3,353m, creating a new world record of underground directional drilling in coal mine.
2. The rotary unit has a 135mm diameter through-hole structure, and a maximum output torque of 17500N·m. The drill has strong technological adaptability equipping with variety of ordinary drill pipes, though-cable drill pipes, auger drill pipes and fishing drill tools.
3. The hydraulic system adopts load-sensing and constant power control technology, and is designed with various protection circuits such as directional drilling protection, drill pipe thread protection, drilling operation protection, walking operation protection, anti-drop drill pipe protection, stable cylinder protection, etc, which effectively improves the operation convenience, safety and life of drilling tool.
[Application]
In September 2019, a new world record of in seam directional borehole depth was created by ZDY15000LD drilling rig in Baode Coal Mine, one of the largest underground coal mines in China. The depth of the borehole reached 3353 meters. It from the drill site to another roadway more than 3 kilometers away, showing relative high trajectory control accuracy. In this project, YHD3-3000 mud pulse wireless MWD system, BLY460/13 mud pump crawler (mud truck), Ф89 mm high-strength drill rod and other drilling tools are adopted. The whole system has a outstanding performance during the whole drilling process.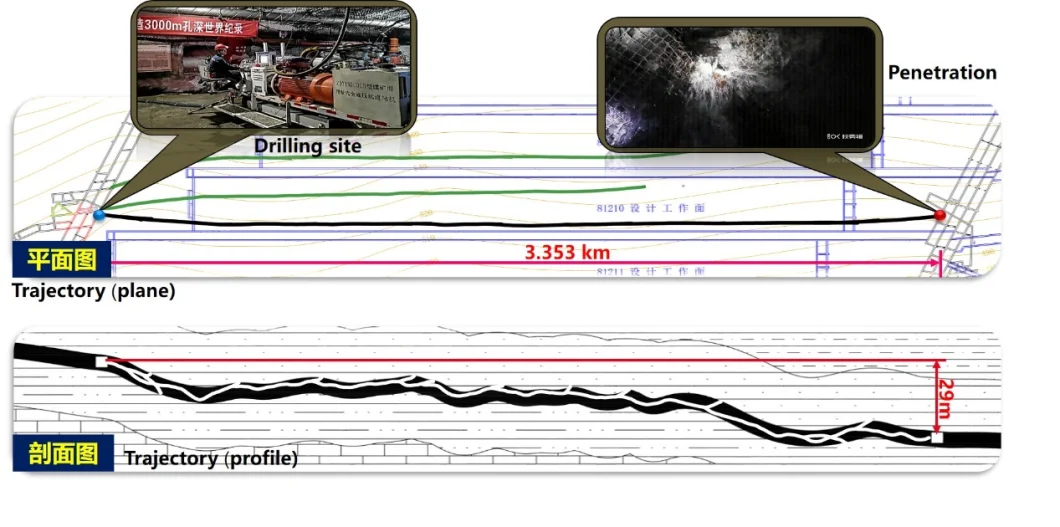 Trajectory of 3353 meter deep in-seam direction drilling borehole